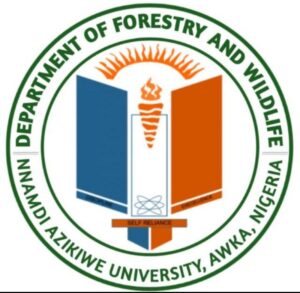 BACKGROUND INFORMATION
Forestry is the scientific management of forest resources for sustained yield production of forest goods such as timber, fuel wood, paper, mushrooms, wildlife products and ecological services as environmental and ground water protection, forest recreational facilities and carbon sequestration. The increasing demands for these goods and services have resulted in significant pressure that could jeopardize availability for future generations. Fortunately, as renewable natural resources, which can be regenerated after harvest, appropriate management principles and techniques will go a long way in achieving sustainability.
However, forest and wildlife resources over the years have been over exploited through uncontrolled and inappropriate methods, apparently due to poor public enlightenment, resulting partly from inadequate staffing of forestry and wildlife regulatory establishments to manage the resources. Consequently, there has been increasing deforestation, habitat degradation, critical climatic conditions, deficit supply of forest goods and ecological services, threat of extinction and, in some cases, extinction of some flora and fauna species. It is for this purpose that the Department of Forestry and Wildlife was created to train and equip prospective forestry and wildlife professionals with the necessary scientific skills and principles in Silviculture, Biometrics, Inventory and Ground survey, Engineering, Wood Science, Agroforestry, Wildlife Science and Management, Biodiversity Science, Social and Environmental Forestry, Economics and Management, Remote Sensing and Geographic Information Science. These provide the biological concepts for an understanding and adaptations to the environment as basic framework to the proper management of forest resources. Moreover, the economics of forest resources is crucial for profitable management, as it bothers on resource allocation, regeneration, harvesting, processing and marketing of the products.
BRIEF HISTORY OF THE DEPARTMENT
The Department of Forestry and Wildlife was established in 2010 after successful resource verification by National University Commission (NUC), alongside other sister Departments in the Faculty of Agriculture.
The first batch of students were admitted in the 2011/2012 academic year, with only one student enlisted for the 5 years programme leading to the award of Bachelor of Forestry and Wildlife. Professor E.L.C. Nnabuife was the pioneer Head of Department till 2012/2013 session and then Dr. C.I. Ezeano (2013/2014 to 2018/2019 session) and Dr. A. E. Egwunatum is the current Head of Department.
MOTTO: 
Forest; the Lungs of the Earth.